The national charity: BackCare delivers an annual campaign spotlighting preventative measures for back and neck pain. This year its focus is on office workers and effectively titled 'Back in the Office'.
In support of their campaign each year, we are pleased to highlight some simple ideas and good working techniques for you to consider:
How to: Set up the optimum workstation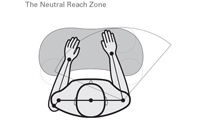 We actively distribute our guide on how to create an in-line workstation to reduce unnecessary stretching when we conduct DSE assessments, deliver training and more recently at several health and wellbeing events throughout South Wales. If you've yet to get hold of a copy, you can access it on our website: Your Easy Reach Zone.
You can also find other useful information on the Resources section of our website.
How to: Move at your desk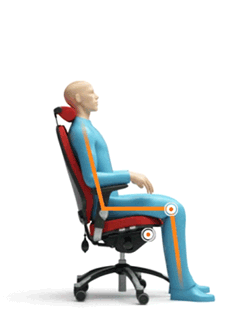 Active sitting is great for opening up the airways, improving circulation which, in turn can reduce muscle fatigue and improve general wellbeing. Many of the chairs we offer are designed with advanced ergonomics that promote dynamic sitting and have several features which go beyond the basic office chair.
Optimum features to look out for include:
Body tension mechanism for counter balanced free-flow movement.
Independent seat and back angle.
Pivot Point ergonomics
4 dimensional armrests
Pelvic Posture Principle
Learn why: Your guide to chair features
As a result of the recent Chalmers Study, Scandinavian Business Seating have collaborated with top ergonomists and physical therapists to develop practical tips on how the risks of sedentary work may be reduced whilst improving health and work performance at the same time.
See: 'five simple tips for those with sedentary jobs'
Sit – Stand?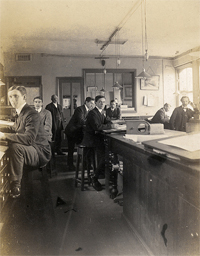 Although Standing is Trending, it's not a particularly new concept. In fact, several historical figures as well as world leaders were known to use standing desks in the late 18th and early 19th century including: Thomas Jefferson, Winston Churchill, Charles Dickens, Oscar Hammerstein II and Benjamin Franklin.
More recently new evidence has revitalised media interest on the purported health benefits of standing, criticising sedentary working with quite alarming headlines such as 'sitting is the new smoking' and 'sitting disease'.
Regular readers will also know, we have spotlighted the developing sit-stand culture over the last few months as, not only have Electric Height-Adjustable Desks halved in price over the past decade; effectively becoming a more affordable possibility for organisations to implement, but alternative options such as Varidesks have also come to market. Last week we demonstrated these potential solutions at the prestigious Welsh Business Show in Swansea's Liberty Stadium.
Missed our event? Get in touch for your personal demonstration.

Of course standing for prolonged periods of time can equally take its toll, so if your organisation is considering looking at introducing alternative working methods, suitable seating is also a key element. Have you considered perching stools or saddle chairs such as HAG Capisco chairs or Muvman stools?There are a number of other points to consider too, which we will happily discuss with you – please don't hesitate to ask for our advice!