There are several types of mouse mats available for computer users now, including thin, cushioned, elevated wrist rests with gel wrist pad cushions but what's the school of thought behind them?
Different Mouse Pads are intended to assist you in different ways. When choosing what kind of mouse mat, if any, largely depends on your hand size, type of mouse you are using and indeed how you use it.
Correcting Wrist Position
There seems to be a lot of scrutiny over wrist rests and mouse mats with elevated wrist supports. According to Cornell University Ergonomics Web (CU Ergo) '10 tips for using a computer mouse':
"Research has shown that using a wrist rest doubles the pressure inside the carpal tunnel".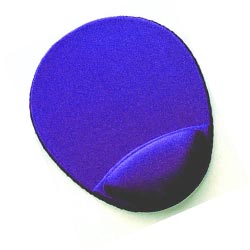 It is important for your wrist to remain in a straight but relaxed position i.e. that your wrist is not arched causing your hand to be on an incline or decline when holding your mouse. Technically, this should not be the case if you hold a vertical mouse, however some users may find a mouse mat with an elevated wrist support such as the 'Super Gel Mouse Pad' beneficial with some standard mice where the mouse lacks a truly ergonomic modern design.
However CU Ergo also advise in 'The Real Truth About The Most Popular Ergonomic Products':
"Avoid soft and squishy wrist rests (gel –filled) because these will contour to your wrist and encourage wrist twisting".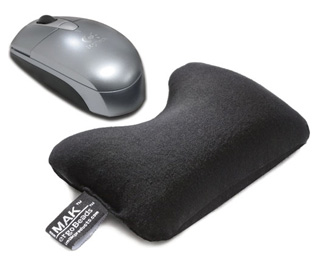 Users with a gap between the wrist and the desktop surface causing the wrist to 'sink' (which could arguably lead to symptoms of RSI and ultimately MSD's) may indeed benefit from the 'Ergo Beads' wrist cushion instead. The unique design was developed by Dr. MacMorran; an orthopaedic and hand surgeon with more than 30 years of experience in private practice specialising in repetitive stress injury and he has treated thousands of patients suffering from carpal tunnel syndrome. It is much softer than a standard gel constructed wrist rest and also 'gives' under pressure rather than providing a firm support.
For Precision
If you're considering a mouse mat to aid accuracy, for example if you use your mouse (for short periods of time!) at home sitting on the sofa, then you may consider the 'Slouch mat', which offers a stable and level surface with its unique 'slouching' base that grips onto a variety of uneven and narrow surfaces and indeed is the only mouse pad of its kind devised to be used on your lap.
At your workstation nonetheless, a viable option may be a simple repositionable laminated surface such as the 'Ultra Turbo' Mouse mat, which offers anti-slip micro-dot technology for pinpoint accuracy and avoids your mouse skating away causing you to reach further than your 'Easy Reach Zone'.
You may, however consider the type of mouse you are using instead. For example the 'Microsoft Wireless Mobile 4000' works on almost any surface (including your living room carpet!) or the 'Logitech MX' which is a Performance Mouse which allows you to track precisely on a variety of surfaces including glass tables.
Alleviating Pressure
When mousing on hard surfaces, such as a wooden desk, this can apparently result in pressure marks or nodules appearing under your wrist from the constant rubbing on your working surface; you may then consider a cushioned mouse mat such as the 'Fellowes Microban' to relieve the discomfort you are experiencing or indeed prevent it.